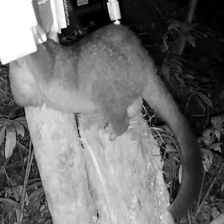 Images of predators species extracted from camera trap video taken in the Karioi region from 2018-2020.
Description
This data is available in PNG files, with the folders defining the classes (predator species) of the images. The classification folder contains the image.
The classes in this dataset include:
cats

empty

possums

rats

stoats
Data
License
This data is made available under CC-BY-4.0
Citation
Lim, Nick. (2021). Karioi Predator Camera Trap [Data set]. Zenodo. https://doi.org/10.5281/zenodo.5276593
Acknowledgement
We would like to acknowledge Jim McCleod from Waikato Regional Council, Sandy Hounuku the hapu landowner and The Karioi Project managed by A Rocha Aotearoa New Zealand.