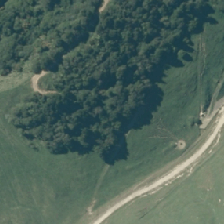 Land cover database (LCDB) and Waikato Regional Aerial Photography paired imagery for the Waikato region taken in 2017.
Description
This data is available in PNG files, with the folders defining the classes (land-use) of the images. The classification folder (classification.tar) contains the image, while the segmentation folder (segmentation.tar) contains the mask of the image segmented by land use.
The classes in this dataset include:
broadleaved_indigenous_hardwood

deciduous_hardwood

exotic_forest

grose_broom

harvested_forest

herbaceous_freshwater_vege

high_producing_grassland

indigenous_forest

lake_pond

low_producing_grassland

manuka_kanuka

shortrotation_cropland

urban_build_up

urban_parkland

flaxland

permanent_snowfall

landslide

matagouri_greyshrub

estuarine

alpine_grass

sub_alpine_shrubland

mangrove

tall_tussock_grassland

river_stream

transport_infrastructure

gravel_rock

mixed_exotic_shrubland

surface_mine

herbaceous_saline_vege

sand_gravel

orchard_vineyard

depleted_grassland

fernland
Data
License
This data is made available under CC-BY-4.0.